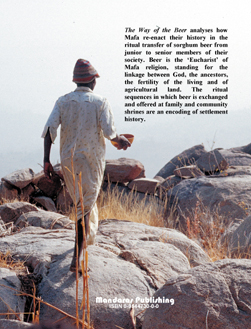 The Way of the Beer
Gerhard Muller-Kosack
Ritual reenactment of history among the Mafa.
Terrace farmers of the Mandara Mountains (North Cameroon).
Out of print book: → Please download as e-book
Book details
Paperback (22 x 16 cm)
409 pages (with 63 colour plates and 19 colour maps
Mandaras Publishing 2003
London (UK)
ISBN 0-9544730-0-0


Price:

£10 (plus shipping)
About this book
The Way of the Beer analyses how Mafa re-enact their history in the ritual transfer of sorghum beer from junior to senior members of their society. Beer is the 'Eucharist' of Mafa religion, standing for the linkage between God, the ancestors, the fertility of the living and the agricultural land. The ritual sequences in which beer is exchanged and offered at family and community shrines are an encoding of settlement history.